Click here for more pinball at Mark's Pinball Page!
Stern Big Game
Stern's Big Game was produced in March of 1980 (same as Firepower!) and a total of 2,713 games were manufactured. Big Game is a "wide body" pin, following on a trend in the late 70s to produce wide body games (Bally Space Invaders, the Atari games, Williams Scorpion). This trend ended in 1981 only to resurface again in the early 90s with classics such as Twilight Zone.
I got my machine for the perfect price, free! My daughter's third grade teacher had one in their rec room that someone had given them and they didn't want to pay the repair charges to fix it yet again. If I came and got it, it was mine! Not having any experience working on Bally/Stern boards, and noticing that a good deal of the traces were missing from the MPU and replaced by magnet wire, I decided to invest in a Pinball Lizard replacement board. The board took about 2 minutes to install, and the game was up and running.
Game play is extremely fast for a wide body pinball, the ball really moves. I didn't spent much time playing the game, but the basic scoring is a combination of drop targets and "bingo cards". There are three bingo type cards in the middle of the playfield, and you hit the corresponding numbered drop target to light up lines on the card. Doesn't quit fit into the jungle theme. The game was designed by Harry Williams and plays more like a fast EM machine than a SS. IMO, the game could have proved more successful as a standard body game, it would have been wicked fast and the only thing they would have had to remove was the "horse shoe" eject hole loop at the upper left of the playfield. That may have been the original idea for the game, but with the wide body trend in full swing, the game was "expanded".
Game Flyer (click on a thumbnail to view a flyer page)
I sold the game in February of 2002 to Paul from Ohio who is on a mission to collect the original Stern SS games. Paul drove in from Ohio (on a day trip no less!) to pick up the "Big Game". Below is a shot of me playing the last game before moving the game upstairs for Paul's pickup.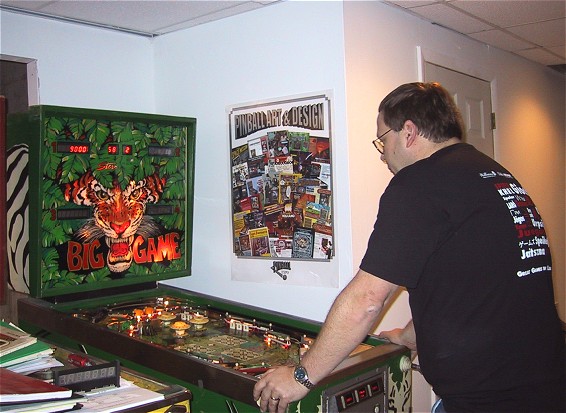 Below are a series of shots of the game that another Stern collector asked if I could provide him (he really only wanted the cabinet, but I did the whole machine while I was at it)...