My Black Knight Story:
We need to travel back to 1980 to get a better perspective on what a huge impact Black Knight had on the pinball community. Arcades were still predominantly pinball, with video games just starting their march to domination. Solid State pinballs were a recent phenomenon and you would still find about a 50-50 mix off SS and EM machines in the arcades. Even the majority of SS machines still had chimes or very basic sound. Firepower had been introduced earlier in the year and you still had to wait in line to play it. I had a routine were every Friday night I would go with a group of friends to a place called Malibu Grand Prix in Mt. Laurel. They had a couple of go-kart tracks and an awesome arcade. We would race cars for an hour or so then go play pinball for a few more. One night Black Knight showed up... I had been blown away by Firepower earlier in the year, and now we had Black Knight. What can I say, two levels, never seen before! Timed drop targets! That awesome upper level ball lock! Two and three ball multi-ball! That cool "hidden" bonus multiplier loop! And that great 30 second "bonus ball" round at the end of the game for the high score! There was nothing like it, we would pile up our quarters on the glass and play it all night.
This went on for about a year until I got hooked by the personal computer bug and the nights at the arcade were replaced with computer user group meetings. Fast forward about 15 years and a I was looking for an air hockey machine for the basement in our new house. We wanted an arcade quality machine, not a "home" version and I found a dealer in Pennsylvania who dealt in arcade equipment. When I got to the showroom we did the deal on the air hockey and then I started wandering around all the pinballs. Like most folks, I had no idea that there was such a market for used pinball machines. I enquired about a Black Knight, and was shown to the back of the show room where one stood! Being a pinball "newbie" and having no idea what the price for a machine in its condition should be, I promptly overpaid a few hundred dollars for it.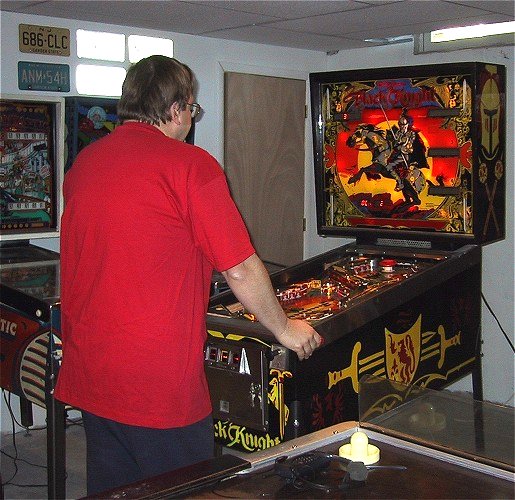 The machine was in good shape, the playfield had a good deal of swirl marks, but no wear spots, especially around the magna-save areas.