So what does $85 buy you.....
I have bought more than my share of "duds" (my first Firepower II comes to mind, 8 hour drive for a piece of crap...), so the pinball gods owed me this one... The game sat in my garage from December 1st of 2001 until late February 2002 (only 3 months, not bad..) I had a friend over and convinced him to help me lug it downstairs in one piece. I normally disassemble the games to take them down myself, but having the manpower to not take it apart saved me a couple of hours of work.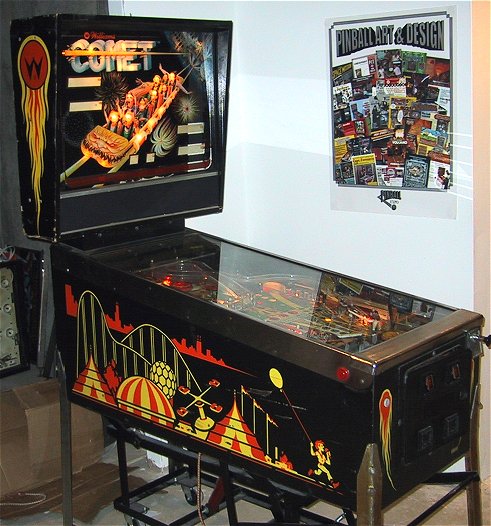 Even though they powered the game up at the auction and had a ball in play, I went over the game with a fine tooth comb and powered it up the first time with the solenoid and lamp fuses removed. I added a few credits and the game started. After checking the wiring I first put the lamp fuse back in and got the CPU lights going, then put the solenoid fuse back in. No smoke, no smell and no locked on solenoids so I actually played a game.
Here's the deal:
- No displays, but it has the display driver board. Plugged in some displays and they almost worked. I'll need to locate a new driver.
- The right slingshot kicker doesn't work, nor do two of the pop-bumpers.
- The backglass is flaking at the bottom. I plan to triple-thick the glass, then repaint the black. If you had to have a glass flaking, you couldn't ask for a better part to be bad.
- The bottom of the playfield was Mylared and is in great shape. There is some bubbling around the inserts and I'm on a fence about removing it. I may try to fix the bubbling and clean the Mylar up first to see how it turns out.
- The top of the playfield is worn in a few spots. It should touch up nicely.
- All of the plastics are present and in good shape.
- The two ramps have cracks in them, but you have to have a good eye to find them. They'll do just fine until I find new ones.
- All of the playfield posts have more wax in them then I've every seen before and will probably need to be replaced. At least they waxed the playfield!
- The cabinet is in good shape, a few nicks and gouges, but nothing that can't be touched up.
- The coin door is a mess and will need some major work.