I picked up this Disco Fever in April of 2002 after having first passed over it back in October of 2001. The machine was missing the backglass and the back box pedestal was attached to the back box, not the cabinet! The playfield is in decent shape, as is the cabinet. When I first saw the machine, I passed on it for a Gottlieb Charlie's Angels (ss). What was I thinking! A few months later a friend of mine told me he was looking at a Flash this seller had and I asked him (half-heartedly!) if he still had the Disco Fever with the broken head. Lo and behold he did, and my friend picked it up for me.
I located a backglass without much trouble, Mike Pacak had one and I picked it up at the Allentown show. Its in decent shape for an old Williams glass, about an 8.5 that should touch up nicely. The electronics in the game are just about shot. One display glass fell off of its board, and the other three are being held on by duct tape. The power cord was cut, which is never a good sign. I didn't even attempt to use the MPU and Driver boards that were in the game. I burned a new set of ROMs and put a "known good" System 6 board along with a working driver board in the game. Powering up the machine showed that only one display was good, the glass on the others only showing a few digits. However this means that the display driver is good, and for the price of new glass will come back to life.
The first time I attempted to play a game, the machine would attempt to eject a ball, then it reset itself. Taking a look at the power supply, I noticed that the filter capacitor on the power supply had been replaced with a capacitor rated at 2000uf, rather than at 12000uf. Swapping out the power supply with another one from the bench cured the reset problem.
As of this writing, the game plays fine, so I will soon start on the restoration. Check back in the next few months for updates!
A shot of the backglass. You can see the bad digits on the displays.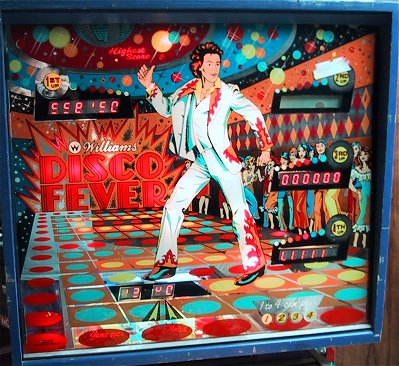 Full shot of the playfield: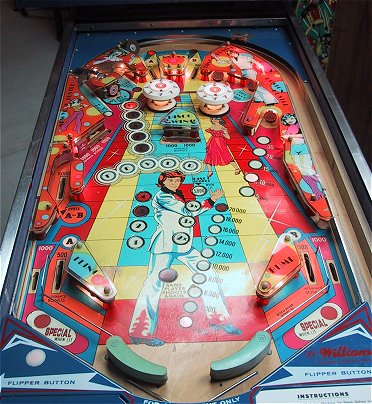 Bottom half of the playfield:
Top half of the playfield: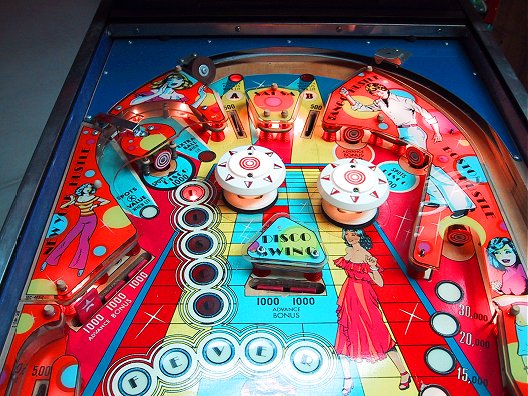 I added a rotating "Disco Ball" from Spencers as a topper. Since System 3 games don't have an attract mode, the rotating ball adds a nice effect when the game isn't being played.