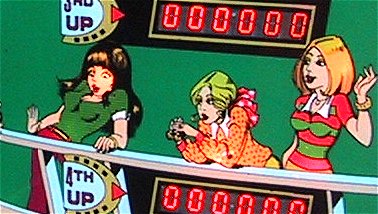 Hot Tip was Williams first production Solid State pinball machine. Released in November of 1977, it was the beginning of the Solid State era at Williams. Hot Tip was also released in a Electro-Mechanical format, the only Williams game released in both formats. Bally had the jump on Williams with Solid State games, having released several electronic games already in 1977. Gottlieb was a month behind, with their first Solid State game (Cleopatra), released in December of 1977.
The EM version of Hot Tip was also the last EM produced by Williams, with all games coming after Hot Tip being released only as Solid State.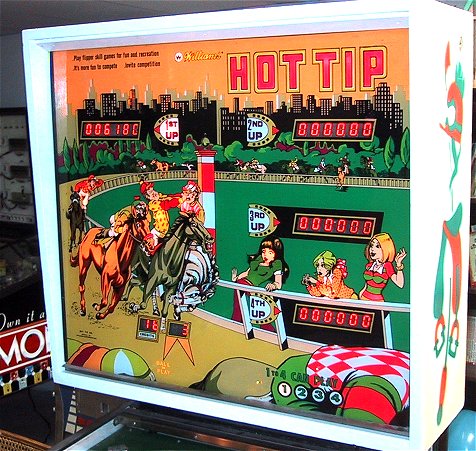 Game Facts:
The Mr. Pinball Guide states that 4,903 Hot Tips were produced in solid state format and 1,300 were produced in EM format. Hot Tip was designed by Tony Kramer (Algar, Disco Fever, Tri-Zone and Pharaoh) with art work by Christian Marche.
One of my favorite features of the game is the fact that it still uses EM style chimes rather than electronic sound. It still dings and dongs when you score, plus just to make sure you know you're scoring, there is even an old EM score reel in the cabinet that is "clicked" every time you rack up some more points! Williams introduced electronic sound with World Cup two games later, but the sound is so poor by today's standards that the chimes and reels of Hot Tip are a symphony in comparison. Not until Flash and its continuous background sound did electronic sound finally surpass the chime unit.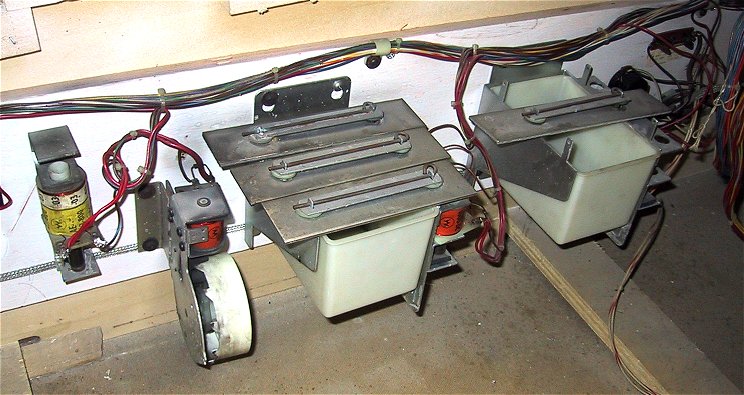 Dual chime units and a single EM score reel provide the sound for Hot Tip.
If you haven't been able to tell yet after browsing around my site, my collecting centers around older Williams Solid State games. I remember playing Hot Tip when it first came out and getting a kick out of the little jingle it played on the chimes when you hit the start button. I had been searching for one for almost 2 years, and did buy one in late 2001, but it needed enough parts that I decided to search for a second and "make one out of two". It took me another 9 months to find the second, but I lucked out and got one in terrific shape that will only take a small amount of work to finish up. The best part about this game is that while the ad I ran on Mr. Pinball said "will travel within 3 hours of Atlantic City", the seller was from Ohio and delivered the game while on a business trip.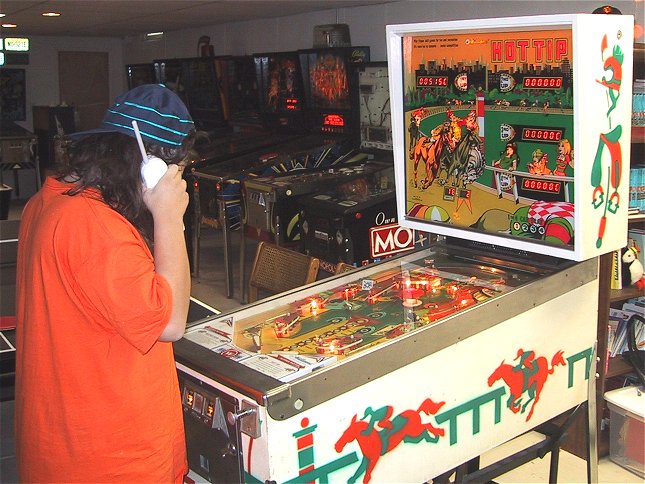 Here is my 13 year old daughter displaying her unique talent of taking on the phone and playing pinball at the same time!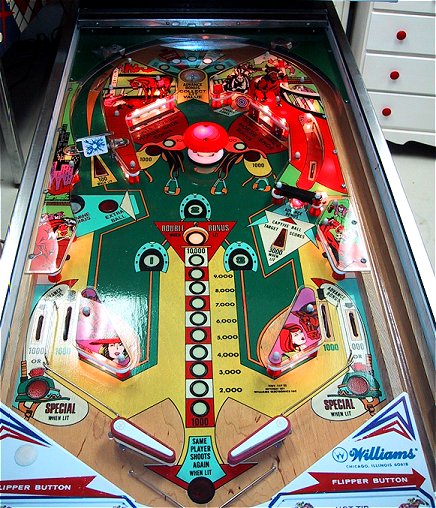 Full Playfield Shot

The "Captive Ball" shot